As the week comes to a close, here's a quick recap of what happened in our Let's Meet series.
The made for love recap episode 1 is a short recap of the first episode of the show.
In a secluded restaurant, Hazel and Byron explore their relationship. They demonstrate how much they've evolved while they've been apart and what they want to achieve in the future. From the parking lot, Judiff and Herb try to listen in, with mixed success.
Recap
Hazel boards a bus to meet Byron in a restaurant in an unknown desert area where the press will not be able to locate them.
Hazel boards a bus to meet Byron in a restaurant in an unknown desert area where the press will not be able to locate them. We hear the phone call when they discuss the meeting's conditions via voice over. Hazel refuses to meet in the Hub and prefers to meet in public, but Byron prefers not to be seen, so they decide on the Sunrise Diner, which Hazel recommends.
When she arrives, Byron is already sitting in a booth, holding the divorce papers out in front of her like a shield. He stated over the phone that if she truly wants a divorce, he'll give it to her, but in return, he wants a face-to-face, honest discussion.
In a discussion, I doubt he's ever really given himself up to her.
But first, a trip down memory lane…
Let's take a look back at what Byron said to Hazel the first time they met and on their first date before thinking he'll simply get a few things off his chest and then let her go on with her life.
When Byron first approached Hazel on the street, he picked the time and location. As a result, she met him for the first time when he had complete authority over her, including the ability to have her jailed. He looked bigger than life since she was kneeling on the ground while he was standing. He was going to deliver a lecture at her college about his opulent riches and meteoric ascent to fame and fortune as a computer tycoon. Meanwhile, she was a poor student and petty con artist who shared a trailer with her alcoholic father.
Byron arranged the meet cute in order to portray himself as a kind Prince Charming who was enamored with this modern-day Cinderella and just wanted to take her away from her problems.
He informed her that they were similar animals, basically scam artists, who knew how to identify opportunity and capitalize on human desire to obtain what they wanted out of a scenario, both on the street and on the date. This is a definition of narcissism, but Byron portrays them as two of the characteristics held by great geniuses, since this meeting is ultimately about business and winning, not romance, for Byron.
Instead than relying on nature and chance to place the perfect person (or location, or opportunity) in his way, Byron produces what he wants. He doesn't comprehend romantic love, as the title of the series implies. Hazel is his unformed clay, his rib, whom he will bring inside his workshop, the Hub, to complete shaping into the person he wants her to be based on his needs and wishes. Like a God, he's already constructed the rest of his universe from inside the Hub. He'll make his Eve by converting a poor, naïve young lady into his mature, educated, cultured wife.
He had been watching Hazel for a while before approaching her ten years ago. He already knew all he could about her using all of his resources, including the fact that she is a highly adaptive survivor who has had to fend for herself since she was a child. He went into the date well prepared with knowledge, while she stepped inside a fully sealed pod owned and managed by him after he misled her into believing she was traveling to Rome for a restaurant meal.
Byron impressed her with the cube's versatility and capacity to make you feel as if you've been all over the globe without having to go out into the world. She was young and had never left her village at the time. She was too naïve to see the distinctions between real-world and virtual travel, as the reporter noticed when Byron reproduced his favorite beach. Then he sent a million dollars to a poor girl's bank account through electronic transfer. This powerful guy gave her his whole attention, the girl with the deceased mother and the uninterested father.
Hazel easily got over her father's deception about Rome since her father had taught her to move on from disappointment with little whining and instead make the most of a situation. She followed Byron's example in gushing over the possibilities of his technology, which, when you think about it, isn't all that different from viewing a movie about a location. Surround television would be great, but it wouldn't make you feel like you were there.
By the end of the night, Byron had persuaded Hazel that marrying him would be an exhilarating, virtually risk-free experience, but she had to sign on the dotted line right then and there to win the reward, since the chance wouldn't last long. It was a rushed, show-stopping performance, reminiscent of how a narcissist or con artist entices someone to sign their life away before they realize what they've done or who the other person truly is. Byron didn't even eat anything throughout their meal. He didn't disclose any personal information about himself or take any emotional risks. For him, this was a business encounter.
In fact, their marriage has gone precisely as their first date did, thus Hazel wasn't deceived in the sense that she received what she was promised. Except she didn't have time to consider her options or if she really wanted what was on offer. She had no idea that she'd never be able to make anything more complicated than the most basic decisions, like if she were a kid. Or that she'd never get out of the cube. Or that Byron would never offer her greater emotional closeness than the one he'd given her that night.
She had no idea she'd become Byron's canary in a golden cage, so well guarded that only a select few were allowed to view her.
Byron correctly identified her desire: she desired safety and financial stability after the precariousness of her upbringing. However, Hazel has had enough of protection and safety after 10 years. She's acted out her anxieties since childhood. She addressed her problems with her father throughout her separation with Byron. She's ready to grow up and accept her father as a flawed person. She's more than ready for a guy who will be her complete companion.
Except for perhaps growing more egotistical and dominating, Byron hasn't changed or matured. And frantic. I'm not sure whether his emotions for her are simply possessive or genuine love at this point, but he's become more anxious to retain her, just as she's become increasingly desperate to be her own person again.
Let's Meet is the title of this episode since it's a rerun of their first date, but this time Hazel has more power and knowledge. Unfortunately, she still lacks all of the essential knowledge due to Herb.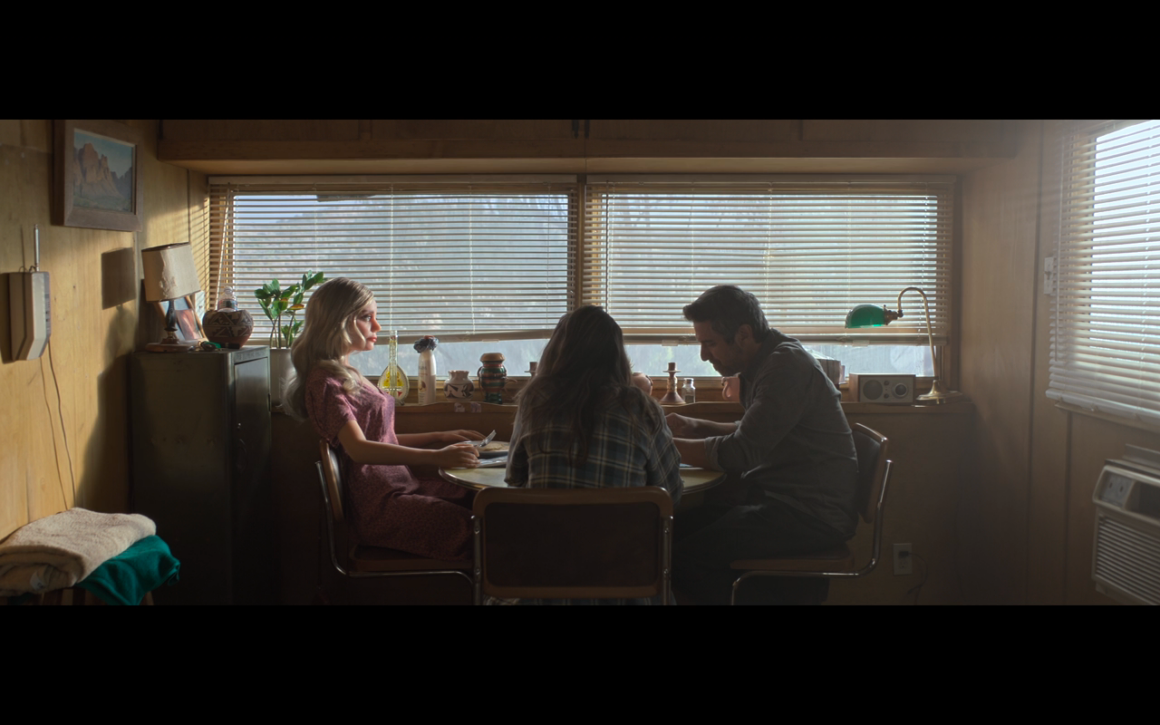 When Byron sees Hazel, he leaps to his feet and approaches her for a hug, but she begs him to back off. He welcomes her by calling her Noodle, his pet name for her, which she cautions him not to use. He greets her once again, this time calling her Hazel. She inquires about the Hazelcam. He claims that he hasn't looked at her feed in days. She is intrigued by this development, but ultimately thinks it is unimportant. She pulls out the divorce paperwork and starts initialing each clause.
Bennett has been monitoring the Hazelcam stream and reporting to Byron, so Byron is already bending the facts. Is the remainder of Byron's genuine humility a performance or genuine humility? Or a combination of the two? Both, in my opinion.
Herb is sitting on the sofa with Diane, doing a crossword problem from the newspaper. He discusses the puzzle hints with her. You have to question whether she'll be of much assistance. The first hint, on the other hand, is "four letters, half man, half goat." For the solution, Herb consults his sex doll (Puck).
I can't say enough about this show's clever sense of humour.
When Herb doesn't respond straight away, Judiff knocks on his door furiously and lets herself in with the spare key. She informs him about Hazel and Byron's encounter. Since Byron presented Hazel with divorce papers, Herb tells her that everything will be OK. He claims they no longer need Judiff's assistance and inquires as to how she learned about the meeting. Judiff reminds him that she snuck inside the trailer and bugged it. Hazel didn't find out about the meeting until this morning since she'd already gone to bed when she spoke with Byron. Hazel had gone a long time ago. Herb believes Hazel is OK; after all, she has been taking care of herself (and him) since she was a little child.
Herb appears to have forgotten that Judiff had bugged the home. Is Byron drugging him, or was he simply more concerned about Judiff wanting to date him again when he went to her home than her present investigation?
This isn't over, Judiff assures Herb. They must follow Hazel for the time being, since Byron only acts in his own self-interest. She tells him that Hazel had one date with Byron before disappearing for ten years in the Hub. Herb acknowledges that she is correct.
Byron tells Hazel about all of the ordinary places he's been lately, such as grocery stores and coffee shops. He inquires as to her whereabouts. She claims to have flown an aircraft; she just went up in the air and then returned to the ground, but it was a fantastic experience. He makes an attempt to seem startled. Byron is awestruck and appreciative. Hazel becomes irritated and wonders how it feels for her to tell him about her day rather than him snooping on her. He says it feels good, but in a questioning tone. He observes her expression and then repeats it with greater assurance. "That's how relationships are meant to work," Hazel says.
Byron begins to tell her that he has changed, but the waitress interrupts them to take their orders. Hazel requests a cup of coffee. Byron orders the Big Boy Burger, but since he didn't read the menu carefully, he's unprepared for the overwhelming amount of side options and instructs her to bring them all.
To be honest, we've all been surprised with a combination plate when all we wanted was a burger.
Byron returns to his overall subject of "I've changed" once the waitress and subsequently the unexpected busboy have left. He amps up the glitz and glam to the max. Hazel even insult-flirts a bit, which is mainly to demonstrate how far she's come since their first date and how little Byron has. He's still attempting to wow her with one-liners, even though she's no longer star-struck. They've been married for ten years and should be discussing their shared existence and what they need to improve as a couple. But, since he has never shared his life and duties with her, they have nothing to discuss in terms of mending their relationship other than Hazel's complaints.
Unless Byron is now ready to share his feelings. As though he were a big boy.
Judiff and Herb arrive at the restaurant, where Judiff steals the ketchup intended for Hazel and Byron. When she returns to the vehicle, she apologizes to Herb for interfering with his medical plans when he paid her a visit at her house. She acknowledges that he must chose how to deal with his sickness.
They listen in as Hazel informs Byron that his efforts at normality are too little to matter, thanks to the ketchup bug. Byron admits that he didn't construct the Hub to escape reality, but that after spending so much time inside, he grew fearful of the outside world. That's something he's working on. Hazel inquires as to whether he intends to depart the Hub. If Byron wanted to, he claims he could. He wants her to acknowledge, however, that life in the Hub is superior in some respects, even though she felt suffocated there.
"These individuals are captives of life's variables," Byron says. In the Hub, we don't have such annoyances."
We've seen Byron deal with a lot of staff difficulties. Byron may be able to employ people to cope with his daily problems, but we've also seen him deal with a lot of staff issues. In the Hub, there are still "variables" and maintenance problems to deal with, on top of all the other inconveniences you have to deal with on your own, such as health issues.
"Do you know you're simply listing things that impoverished people have to cope with?" Hazel asks.
As I previously said, plumbing problems do not discriminate based on income; even brand new buildings may fail or flood. With enough money, you should be able to find someone to repair it fast. That is exactly Byron's argument. The Hub represents a gated community or a condo with a maintenance crew on duty, where riffraff aren't supposed to be let in to ruin the experience.
Because Byron is a hermit who created his own complex, it's not a great parallel. A shared community of entitled members almost usually quarrels about rules and expectations of conduct. Many communities would not be happy with Byron's conduct, such as keeping and torturing hundreds of pet dolphins, but they would also have children and hobbies that were noisy, ugly, and/or harmful to fight about.
Byron's snobbery doesn't appeal to Hazel. She expresses her gratitude for getting out and gives him the divorce papers and a pen to sign. Byron begins to lose his cool. He requests that she allow him to explain what is going on. If she refuses to marry, he will grant her a divorce. However, he is stopped by a man at the table next to him who requests to borrow their ketchup. Byron gives it to you. He then begs her to return.
"Please return," Byron says. I now know how life at the Hub should have been from the beginning. Just give me an opportunity to show myself."
There you have it. Byron's equivalent of "I was mistaken from the start," which Hazel longed to hear but would never acknowledge. The real discussion may now begin. The problem is that Byron didn't forgive Lyle for saying what Byron wanted to hear. What prompted Byron to utter those things to Hazel, and how much would he make her pay in the end?
The voice on the speaker in Judiff's vehicle switches to a lady discussing the elephant in the room. They're hearing a new discussion now that the ketchup bottle has switched tables. Herb wants to hear the conclusion of the new discussion, so Judiff goes to return the ketchup bottle. Despite his lack of interest in Herb's daughter's predicament, Judiff departs to save her.
If Hazel returns to the Hub, Byron pledges that she will no longer be subjected to regular monitoring, apart from security. He'll get rid of the roosters from Mother Hens. And then there are the sex reviews. He makes the error of claiming that he has already gathered adequate data in that area. When Hazel confronts him about it, he promises to cease gathering data on her sex life since he recognizes that it is unethical.
With his fingers clasped behind his back, he murmured…
He pledges to give her an equal voice in the Hub's design. She won't have to match her clothes and nail paint to the furniture any more, as if she were simply another piece of furniture. She insists that he cease monitoring and controlling everything she eats, reads, watches, and listens to (through the Hub). He agrees to those conditions, but he still refuses to allow her to have a pet. She goes on to explain that she wants an unrestricted mobile phone, the ability to leave the Hub at any moment, and for the chip in her brain to be removed.
Byron complies to her requests, particularly the chip removal. He's come to the realization that his overarching idea for Made for Love was incorrect. Hazel wants him to acknowledge that implanting it was a mistake and that the continuous monitoring was both unlawful and unethical. He acknowledges that, but he believes that putting the chip in just one partner, rather than two, as he had planned, was more successful. He concluded that the chip would be better suited as a wearable, disposable piece of technology that may be utilized for a limited period when couples are experiencing problems.
"Do you believe this was simply a blip on the radar?" Hazel asks.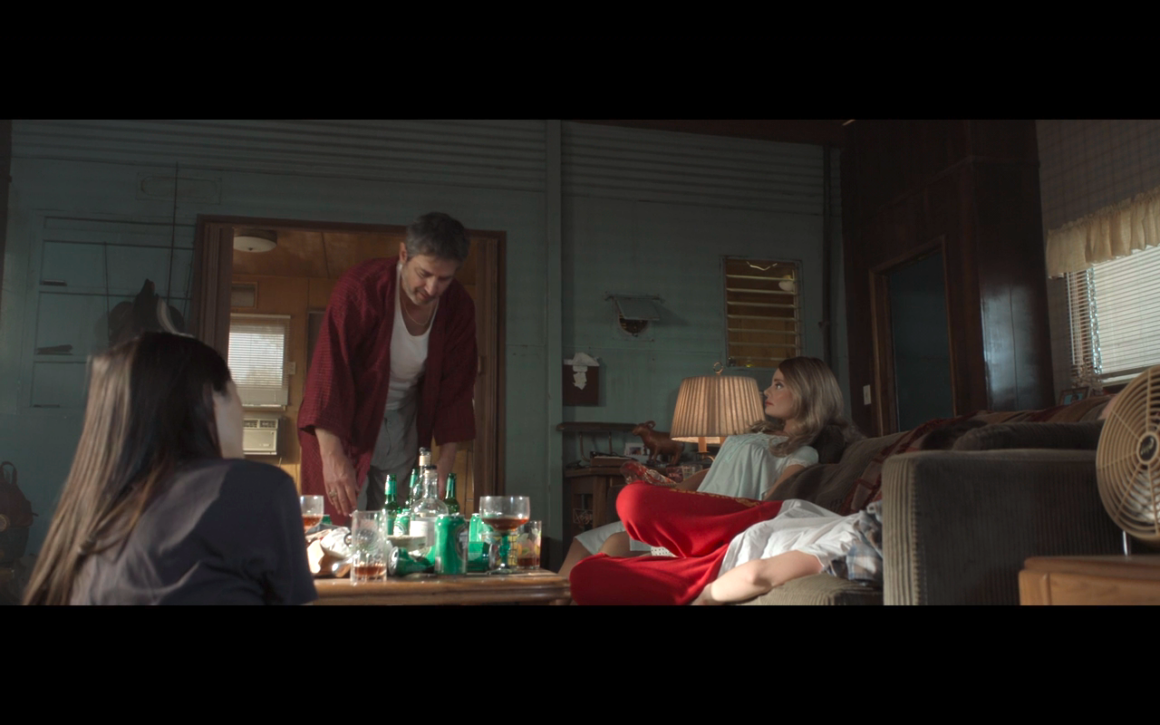 Byron attempts to deny that he thinks of their separation in that light, but he is sidetracked by the product's name, Rough Patch. He finishes up telling her that he wants her back since she's his muse, objectifying her while once again claiming credit for her brilliance.
Judiff stakes out the trash in order to apprehend the bribed busboy and persuade him to return the ketchup to Byron and Hazel's table. He's not very helpful, but she manages to frighten him into collaborating.
Back inside, Hazel instructs Byron to explain how he has changed.
Byron: "I've been watching you since you came out here, and I've never understood why you'd risk our lives for this. But now I understand. It all boils down to a matter of preference. And I don't want to be in charge of you. I want to relinquish power. Something has changed in me just being out here, exposed."
Hazel shakes her head in agreement, then encourages him to keep going. He claims that he wants to be vulnerable in front of her. She has her concerns since he has been practicing "performance celibacy" for 10 years to prevent "emotional inundation." He declined to have sex with her because he was worried that the intense emotions he would have would interfere with his ability to concentrate. Because of his emotions for her enjoyment, he can't afford to be sidetracked or lose concentration.
He mentions that he still looked after her needs, but Hazel claims that such sessions were torturous for her since she had to be open and exposed in front of him, yet he remained an emotional stumbling block.
"That system was made for you," Hazel says.
"You're right," Byron says. I apologise."
Byron hopes they could start all over again. Hazel advises him to act as though they're meeting for the first time and to be himself—no ruses. They begin by introducing themselves. Byron comes to a halt and identifies himself as Greg Benson, a Dutton, Montana resident. He claims that his identity has been erased and that no one knows who he truly is. He doesn't want to speak about it in public and wants to go, but Hazel refuses.
When she inquires about his family, he informs her that his father works as a mailman. When he was eight years old, his mother left with his brother. He believes she is no longer alive. Lyle settled his brother's debts a few years ago.
Hazel inquires as to what he is frightened of. He claims he's "losing you," but she isn't convinced. He goes on to add, "being alone." She inquires as to what stimulates him, to which he responds that she does not want to know. Regardless, Hazel advises him to respond. This discussion has obviously impacted them both. He claims that seeing her excites him.
It's most likely the truth: their relationship began when he fell in love with her from afar, before he ever talked to her.
Some part of him is still afraid that she would reject him for who he is, so he prefers to be the distant conqueror. It's most likely connected to the tale of his mother abandoning him but taking his brother with her.
Hazel inquires as to why he chose her. "Because you were a challenge, I knew I could wi…" he begins. But, for the first time in 10 years, he is interrupted by an inconvenient episode of pleasant emotional flooding.
What Exactly Are These Two Seeking?
When you've been silent for so long, I suppose all it takes is a smidgeon of filthy language.
But I have my doubts about Byron's honesty here. Remember when Hazel smelled out Liver the bartender while he was brewing beer outside his trailer early in the season and persuaded him out of pleasuring himself in front of her, despite the fact that they were strangers? And did Byron keep an eye on the Hazelcam?
There were some striking parallels between that and this situation. It seems that Byron was attempting to resurrect that sexual dream for her in order to demonstrate that he could satisfy her sexual demands. Byron demonstrated to her that he could be vulnerable and spontaneous in public, even having an orgasm while she was in control and they were posing as strangers.
But because this dream didn't include penetration or even touching, was it truly Hazel's sexual desire or was it simply a way to resent Byron, as it seemed at first? Even though she said she hadn't had good sex in 10 years and now had chances to cheat, Byron and Bennett undoubtedly observed she didn't sleep with anyone else while they were apart. However, she used Hazelvision/the chip to bring other individuals to Byron's notice sexually, from Liver to Bangles to Jay.
By the time Jay arrived, Hazel had largely lost interest in the game, which explains Byron's urgency. She'd returned to her original goal of escaping by flying the aircraft rather than pursuing sexual pleasure or making him jealous. (While she was still in the Hub, she had been practicing piloting the aircraft using a flight simulator.)
For the time being, she's turned off to losing control during sex after ten years of solitary performative orgasms. She's furious at Byron, but she's still emotionally centered on him rather than looking forward to a new life.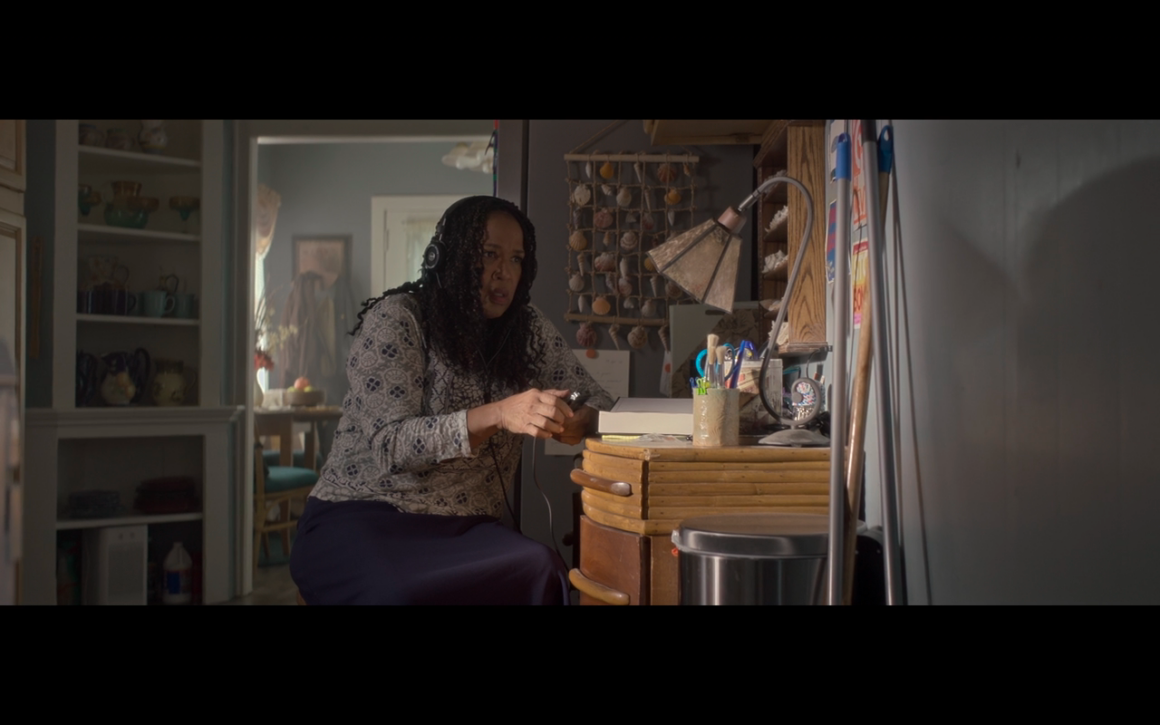 Byron's fixation on that specific dream makes me question whether he'd rather watch her with someone else than participate in it. (Can you tell me where Bennett is when you need him?) But it would only add to Hazel's performance, so it's unlikely to happen right now.
Or maybe they just want to see each other in privacy for the time being, so the performance element is restricted and equal. The key seems to be that they require/desire to control each other's experience. Byron seems to be willing to attempt it in the restricted manner Hazel demonstrated, where he retains control over his own body but has the option of following her directions since it's thrilling and he's growing to trust her.
Hazel is overjoyed that Byron finally let go in public. She breaks out laughing and claps slowly for him. She then requests that he rate his orgasm. He begs her to quit tormenting him and tells her that he wants to return home. She informs him that she has returned home and hands him the pen so he may complete the paperwork.
Byron signs, then expresses astonishment. He assumed she'd accompany him to the Hub so they could rescue Herb.
Byron has made an effort to be polite. It's time for him to reveal his ace in the hole.
However, this serves as a reminder that Hazel does not want to be alone, and her father, whom she has chosen to rely on instead of Byron, does not have a good track record of treating her properly. There's also the fact that children often outlive their parents.
Hazel inquires as to what he means. He is shocked that she doesn't know the truth, despite the fact that she has been living with her father for weeks, and then informs her about Herb's pancreatic cancer. "If he's fortunate, he'll have a year."
Hazel believes he is deceiving her. As evidence, he brings up Herb's medical records.
By the way, medical records in the United States are kept private. He shouldn't have been able to get to them, but Byron Gogol controls the internet, so he did.
Byron: "I'm sure we can rescue your father if you return to the Hub with him." We have some of the finest medical facilities in the country. He won't stand a chance out here."
"I'd rather let him die," Hazel says.
"I don't believe you," Byron says.
Around the moment of Byron's sexual awakening, Judiff repaired the ketchup bug, and she and Herb overhear the whole cancer conversation. Herb attempts to put a positive spin on things by claiming that Hazel is being wise by taking care of herself rather than rescuing him, but it's obvious that he's in pain. He advises Judiff that they should depart and leave Hazel and Byron to their own devices. Judiff is so taken aback by her own emotions that she caves in, claiming that she has already recorded enough evidence to convict Byron.
When Hazel returns home late that night, she discovers Herb soundly sleeping on the sofa in the dark. When she switches on the light, he says he must have fallen asleep by mistake. Diane isn't to be found.
Hazel assumed he'd already be in bed. He was completely out of it, and it took him a minute to come to. He sleeps a much, regardless of what's going on, which is likely one of the indications that his disease is hurting him, as well as a side effect of taking so many opiates to hide the symptoms. The indications that something is wrong with Herb's health have been there for a long time, but Hazel has been too preoccupied with her own problems to notice until now.
(This is not meant to be construed as a critique.) Even after knowing someone for years or a lifetime, people are sometimes too preoccupied with their own lives to notice or recall the symptoms of invisible sickness and impairment. Hazel gets a break since she's dealing with some real issues right now.)
When she asks whether he's okay, he still says yes, then shifts the conversation to her appointment with "what's his name?" They decide to toast the fact that Byron has signed the divorce papers by getting each of them a drink. They raise a glass to the start of the rest of her life. Hazel does not drink, whereas Herb does.
When Hazel mentions Herb's cancer, Herb responds that Byron has no idea what he's talking about. As far as he's concerned, the debate is over.
They opt to watch anything on TV when Hazel gives up on that. "You got away," Herb replies after a minute. You made it happen. I'm very proud of you."
I'm pretty certain he's never really uttered the words "I'm proud of you" to her before, and that hearing him say them meant the world to her. She gives him a sorrowful grin and says, "Thanks, Dad."
Hazel has won this round of the continuous emotional tug of war she's in with these two withholding, controlling men after successfully leaving her father ten years ago, then leaving Byron, then earning her father's approval while Byron still wants her back. When Zelda showed her the escape hatch in the pool, she completed her mission and closed a chapter in her thoughts. This enables her to go ahead and make choices for the next part of her life based on her own needs, opportunities, and desires, rather than feeling obligated to her father or Byron. Season 1 comes to a close in terms of plot.
Take a look at Herb, Hazel, and Diane enjoying breakfast the following morning.
"I'm envious of Diane," Hazel says. Her skin is flawless. There are no weight fluctuations. She was never required to cook. She is never concerned about money. You know, she has a very simple life."
"Yeah, similar to what you had with Byron," Herb says.
"Oh, my gosh," Hazel says. Do not sign a prenup, no matter what he says, and all of this may be yours one day."
Herb joins in the laugh and assures Diane that Hazel is correct.
The parallels between Diane and Hazel are brought up once again, but this time Hazel considers the benefits of being a trophy wife. Life as Mrs Gogol isn't looking so bad now that she's had time to think about her life with Byron and realistically compare it to life on the outside, knowing she can make her own decisions, in her own time, rather than being pushed into something too quickly (Herb's health status notwithstanding), and knowing she can make her own decisions, in her own time, rather than being pushed into something too quickly (Herb's health status notwithstanding).
It's worth noting that Hazel and Byron spent hours at the restaurant discussing improvements to their lifestyle and marriage, indicating that Byron is now ready to do his fair part of the relationship work rather than relying on Bennett to do it for him. Byron came dangerously close to losing Hazel, and he had to acknowledge to both her and himself that she is more than a toy to him. He had to demonstrate her the practical worth of his riches by demonstrating that it could save her father's life rather than just imprison her. That's a big deal, since in the United States, when a medical catastrophe hits, only the affluent can afford to live financially.
Judiff listens to a section of her most recent recording of Hazel over and over until she's certain it says what she believes it says- "We're ready." Judiff then panics when she realizes the consequences. She makes her way out to Herb's trailer, but it's already too late. It's totally devoid of everything.
Hazel says she'll go for a long stroll after breakfast. Herb assures her that he will not be upset if she leaves for an extended period of time and he falls asleep. It's not that he's unconcerned about her. It's simply that he's exhausted.
Hazel understands now that his condition causes him to be tired all of the time. She leaves the trailer with a solemn expression on her face, passing through a portal to leave Herb's Hub cube.
Return to the diner. Byron hands her a bottle of medicine as she prepares to depart, just in case she changes her mind. She then used it to drug Herb's celebration drink, causing him to fall asleep while his whole complex was relocated to the Hub and rebuilt before he awoke.
Hazel enters the vortex, returning to her old home cube, where Byron is waiting for her. He welcomes her, but otherwise remains in the background to allow her to take the lead. She informs him that a panel in Herb's sky is flashing and must be repaired immediately. They take a group stroll towards the home. She grabs his hand after a little moment.
Byron wraps his arm over Hazel's shoulders as they pass Zelda, who is blissfully swimming in her pool.
Commentary
Season 2 of Made for Love has already been ordered.
The fact that Hazel returned to Byron 10 years later does not change the fact that she was mistreated by him. Substance addiction, sexual assault, terminal disease, mortality, and a slew of other evils are not prevented by wealth. It may aid in the battle against these things or assist powerful individuals in getting away with their misdeeds. Hazel returned to Byron with her eyes open this time. It's unclear if they filed divorce papers overnight and she signed a new prenup or they tore up the divorce papers and she was talking about her previous agreement, but she's no longer pretending to be part of an ideal marriage.
Bennett has been noticeably missing since he placed Lyle in the cube, while Byron still has Fiffany and Lyle in the pasture. Is it possible that Byron has decided Bennett knows too much? Gets Bennett attempting to flee before he is sent to the pasture? Is Bennett still keeping an eye on the Hazelcam in a backroom and reporting to Byron?
Season 2 will open with Hazel acting as a second Byron and keeping her father prisoner, while Byron has Fiffany and Lyle to play with as his new Hazels. Zelda still seems like a freedom warrior, and it'll be fascinating to see how the dolphins and Made for Love chips are used next season. Fiffany's study may be permitted to continue, but she'll have to be chipped to prove her devotion. Herb may need to be chipped so they can keep track of his health. When Hazel persuades Byron that the pasture is cruel and unusual punishment, Lyle may be let out, but he'll be placed under home arrest with a chip instead of an ankle monitor. Hopefully, Gogol's medical technology and its ramifications will be further investigated. Robotic brain surgery done at home by the pool is a bad concept.
At the very least, Byron and Hazel will be able to work together as a team next season, rather than as rivals. Unless Hazel realizes she's basically a mafia wife and becomes enraged once again. She knew she had the potential to be one of the 1% this season. Will she test how much control she's willing to hold over Byron, the Gogol business empire, and perhaps even beyond that next season?
Judiff is continuing on the case; will she continue to go to unwelcome lengths, given that Hazel chose her destiny and Herb most likely wants to be rescued, or will she discover a more sinister plot? Is she going to believe Hazel and Herb were abducted or brainwashed? Is there any proof that Byron has a miraculous treatment for pancreatic cancer, one of the deadliest diseases and the one that claimed Steve Jobs' life? Maybe he lied to get her back in the Hub, and he'll inform her later that the treatment didn't work out.
Because that's where the real money is, Byron's therapy for Herb's sickness will most likely be a patented, continuing series rather than a one-time cure. Plus, if Byron believes that treating Herb would help him keep Hazel, then Herb will need to be treated for the remainder of his life. There are several real-life diseases that need sufferers to pay for costly, lifelong therapies (some cost $10,000 per month).
Herb may have rejected chemo since he couldn't afford it and didn't have anybody to live for in the first place. Ray Romano is 63 years old as of this writing, yet two years too young for even partly subsidized government healthcare in the United States. To qualify for Medicaid, the government's health-care program for the handicapped and destitute, he'd have to give up his trailer and any other possessions, pay a lawyer to help him through the system, and wait at least a year for approval, assuming he was approved. He'd most certainly die before Medicaid had completed processing his claim.
Cure of Herbs
It's unclear what Hazel and Herb intend to do about his illness and their lack of contact. He won't be able to hide his symptoms for much longer if he just has a year left. And you'd think that now that she's moved him into the Hub so he can start treatments, he'd notice that he's on medicine or receiving radiation treatments or something. He's already seeing the changes, such as the higher quality of the food. However, it's possible that the miraculous cure will be put into his meals, leading him to believe he went into remission on his own.
Or maybe he and Byron are already working together on this. Early in the season, they had a private discussion in which Byron might have offered Herb a deal: covertly push Hazel back toward Byron, and Byron would save his life. Herb has mostly been a mysterious figure who acts in his own self-interest while getting away with harming others because he is charismatic, which is the usual description of a functional alcoholic.
If this were true, I'd suppose he deceived Hazel, or at the very least pretended to assist her while simultaneously seeking a solution for himself. It's difficult to predict where the authors will take Herb since it's a fictitious character. They may believe he's suddenly developed a golden heart in his old age, which is an uncommon occurrence. More often than not, elderly men decide to hedge their bets before meeting their maker, so they play the nice guy.
For whatever reason, many people believe that mending a connection just before death would have the same effect as a death bed conversion, and that it will be sufficient for God (and their family) to forgive their sins. I don't believe Herb is concerned about God, but I believe he is concerned with how he balances his internal ledger at the conclusion of his life. After everything is said and done, no one will remember him as a bad parent if he can claim he made sure his daughter was securely married off to a millionaire.
Loyalty Tests and False Dilemmas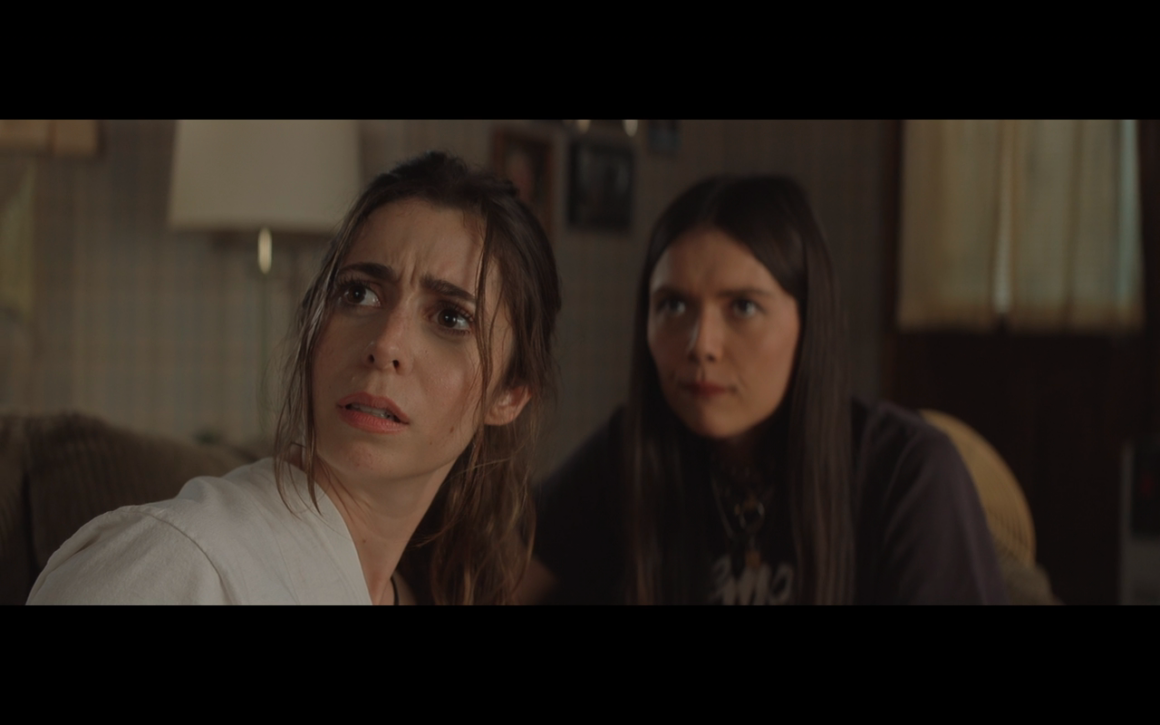 Byron is all about false dichotomies, particularly when they're portrayed as loyalty tests that people aren't aware of. Hazel presents Byron with a challenge, but unlike Fiffany and Lyle, she never really betrays him. She has personal needs that aren't being satisfied, and she is forced to choose between escaping or dying in order to have them met. This is the point at which the pilot starts.
While out in the world, Hazel never puts Byron under the bus by exposing embarrassing details about their marriage or attempting to sell company secrets, two choices for earning money and getting attention that we see others utilize or urge her to do. She maintains her integrity and the integrity of her marriage by just talking to the lawyer about the abuses that might happen in any marriage and without mentioning Byron's name (Herb revealed his name).
Except for Bangles, her longest friend, whom she owed because of the outfit, she kept her social contacts informal or even business-like. She's not interested in making a point to Byron with the beer and sex pheromones Liver is producing; she's interested in making a point to Byron with the beer and sex pheromones Liver is producing. Shane's aircraft appeals to her because of the feeling of freedom it would provide. When she's cleaning the men's room at work and attempting to gross him out, Byron easily distracts her by popping up on TV or just appearing.
Byron is on her mind at all times, and he knows it thanks to the chip. Then she returns to her own concerns: her relationship with Herb and flying the aircraft while she still has the opportunity to experience real freedom. Since she left the Hub, those two topics have been her main priority, as opposed to the ways she's been diverted by others (getting a job, seeing a lawyer, hiring Judiff).
Byron, or, let's face it, Bennett, finally finds out and isolates certain particular problems that Hazel is working through. They then find out how to deal with the problems from inside the Hub. Byron had spent the past 10 years of their marriage attempting to satisfy Hazel's demands; he just didn't understand the idea of equal give and take in a relationship. He believed it would be enough to pamper her like a goldfish in a dish, giving everything a "wife" is supposed to need and desire. Any concerns she voiced were regarded as data to be cycled through the Hub's system in order to enhance the "wife's" Hub experience, rather than being listened to by Byron and worked out between them as part of their relationship.
That's why I envision all of these ideas for Byron to begin with capital letters. He seems to be more like a robot who requires a handbook with clear definitions, objectives, and directions. Nothing is left to chance or devised on the spur of the moment. No one has the opportunity to harm him. If you fail the never-ending loyalty test, you will be imprisoned for the rest of your life. You can't be let loose in the wild where you might do harm, but he also doesn't want to lose anybody he loves about, even if they've deceived him.
That's most likely due to his mother and brother abandoning him when he was a child. He must ensure that this does not happen again. Maybe next season we'll learn more about his father, the mailman.
Meanwhile, Hazel learnt to deal with turmoil and having little control over her life as a result of Herb's drinking and her mother's early death. She found learned how to exist on the outside of normality, surviving on crumbs of Herb's love and care. But few individuals, even those whose development was limited by it as a kid, are capable of doing so indefinitely. You will eventually need additional food, or you will perish. That's where Hazel ended up in the pilot.
Herb supposedly learned how to be a caring parent throughout the course of the season, and their relationship was restored. Because it's a TV program, they may as well stay with it. But this is the guy who, before the series started, had abandoned Judiff in favor of a relationship with a sex doll, and who has done so again this season. Then, only a few episodes ago, he flung Hazel across the room to defend the sex doll from her. It's awful writing for him to transform into a caring parent who prioritizes his kid. Everything we've seen indicates that he is primarily concerned with himself and his addictions, which include his sex addiction and perhaps his opiate addiction. Perhaps the "therapy" Byron offered Herb is regular access to prescription opioids, so he won't have to deal with dangerous street narcotics.
Hazel need a more rigorous loyalty test.
Isn't that, after all, the purpose of the series?
Peeps, don't be fooled by Billy Magnussen's youthful charm or Ray Romano's warm and inviting demeanor. These are the deceptions that mislead the viewer just as readily as they deceive Hazel into believing that these two guys would ultimately, eventually, consistently give her what she wants from them if she can only alter herself enough to cling on to them.
Ladies, we've all been there, haven't we? Hazel needs to discover who she is on her own terms, not in reference to Herb or Byron.
In the restaurant, Hazel puts Byron to the test—this is the AuthenticityTM he's been lacking. He's still not going to allow them have a completely equal relationship—she signed a prenup, for example, as a price for leaving the Hub and demanding freedom and equality. However, she now has a voice and some negotiating power. She's no longer his toy; she's become his doppelgänger. Zelda being back in her tank, where she was happiest, symbolizes her ability to steer/argue him in more ethical ways on occasion. Though, according to Byron, Zelda betrayed him by assisting Hazel in escaping, so she may still be suffering the price.
Byron was concerned that developing emotions for Hazel would lead him to lose concentration, yet he ended up losing her due to the manner he withheld information. He eventually lost concentration. It's still unclear how much of Byron's restaurant chat was genuine and how much was a ruse. I believe it was largely true, but distorted to suit Byron's needs—just the fact that he only disclosed those facts when they would have the most effect is manipulative.
It's a different matter keeping Herb's relocation to the Hub and his cancer treatment a secret. Maybe Hazel didn't want to fight with her father or risk losing him; all she wanted to do was assist him. With the limited-time offer to rescue her father, Byron played on her anxieties once again, but at least she had time to consider it.
He offered her the pleasure of triumphing in her fight for independence, which resulted in more equality and freedom in their marriage. However, she recognized that he was correct about what he adds to the marriage, so it was a hollow triumph. He provides financial riches, which they may use to save her father's life. She may offer love and companionship, which Byron has learned he can't live without and doesn't want from anyone except her. The actual world is a harsh, cold place, and money does assist to improve things. Being surrounded by friends and family helps, too.
They passed on those teachings to one another. They must now find out how to establish healthy connections with others, as well as money and material resources. Maybe they could start by releasing Fiffany out of the pasture cube in season 2. And, if necessary, Lyle. He's an excellent source of humorous relief.
As he had stated on their first date, Byron demonstrated to Hazel and himself that they are similar animals. I'm not sure how much he believed that 10 years ago when he stated it. Hazel showed that she doesn't want to be alone by covertly moving Herb into the Hub. When the option is between losing someone she loves or lying to and manipulating them, she'll make the same desperate, underhanded decisions that Byron did.
When Byron sets up his tests, he always has so many more alternatives than Hazel does, enabling him to artificially limit her choices as if she were a rat in a maze, so that in the end, she'll only be able to live with herself if she makes the decision he wants her to make. He is able to do so because of his wealth.
They both know she has influence over his emotions, which she can utilize when he becomes too controlling with his resources, bringing the relationship closer to equality, but not quite there- she did mention the prenup wistfully, sounding trapped and aware this time. At the very least, as long as Herb is alive. I'm curious whether Byron would agree to have children within the next five years in order to offer Hazel additional reasons to remain after Herb has passed away.
Hazel was forced to decide her father's destiny on her own as a result of Herb and Byron's conduct. She rescued him because she wanted to, not because someone else, like Herb or Judiff, had begged her to. Then, rather of confronting Herb about it, she lied about it. As a result, she began to imitate Byron, and the two have become complete partners in that regard, sharing a secret that draws them closer together. Herb is like their Hub rescue dog, whose life they have full control over—he even wears trousers for the most part.